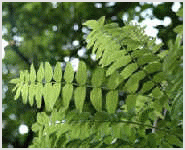 Calcium Sennosides
Herb (
Senna Extract
) is one of the best known
herbal medicines
. Leaves of the Senna plant are used for extraction of Calcium Sennoside. It is very effective laxative. It is slightly bitter. Senna has always being specially used for
constipation
.
Sennosides are hydroxyanthracene glycosides derived from Senna leaves. They have been used as natural, safe time-tested laxatives in traditional as well as modern systems of medicine.
Senna
is native to tropical Africa but now cultivated extensively in South of India. It is grown from seeds. The leaves are picked before or while plant is in flower and pods are collected when they are ripe.
Senna leaves are tested before and after grinding for Sennosides contents and are extracted with methanol. The above methanolic extracts are collected and Calcium sennosides are separated by addition of Calcium Salt solution. The precipitated Calcium sennosides are centrifuged and washed with methanol & dried under vacuum. The dried Calcium sennosides are ground, tested and packed.
Sennosides extensive research indicate that they irritate the lining of large intestine resulting in bowel movement. Senna Extracts has shown effective results in constipation.